Many homeowners are surprised to learn that natural stone can be incorporated into landscaping in different ways—from pathways and firepits, to retaining walls and other decorative elements. They look great and they can create a more enjoyable and usable space. Here are some benefits of adding natural stone to your landscape design. 
1. Creates Impact
When we imagine a garden, most of us imagine lots of greenery. A garden is likely to have flowerbeds, a clean, well-mowed lawn, a statue, and a few decorative accents to add personality. Most people don't think about using natural stone for landscaping.
When we say stone, we aren't talking about paver stones or brick lining. We're talking in-your-face, boulder-sized stones to create an impact. For instance, a Pennsylvania field boulder smack in the middle of the garden. 
Large-sized stones in your garden can help anchor your flower beds and add visual interest to a bland and forlorn garden. 
You can either place the stone solo to add drama and curb appeal to your property or you can install it along with other landscaping elements.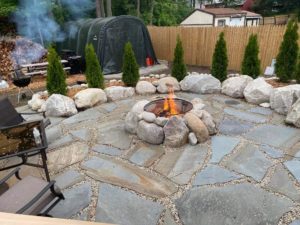 2. Creates Separation
An excellent landscape design should have some kind of delineation. If not, it'll look like a mashup of shrubs, flower beds, patio, pond, and more—lacking structure and organization. One way you can create separation between the landscaping elements is by using stone. 
The benefit of using stone is that it feels natural and attractive when compared to other materials like metal or plastic. Natural stone can harmoniously fit into a landscape and offers delineation. 
Weathered stone is a great option for shaping the garden bed, enclosed kitchen gardens, separate property boundaries, etc. You should be mindful that natural stone should be incorporated with natural design to achieve a harmonious design.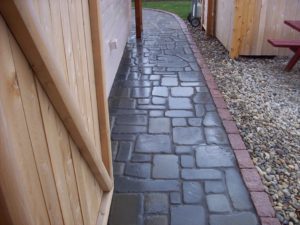 3. Low Maintenance
Everyone is busy. No one has the time to pull the weeds and mow the lawn on a Saturday. Nowadays, everyone wants simple and low-maintenance gardens. Even if we had time on our hands, who'd want to spend it mowing the lawn?
The best thing about stones is that they don't require any kind of maintenance. The stone never has to be sanded, treated, or finished like wooden materials. It doesn't have to be watered or replaced like mulch. It doesn't have to be trimmed, pruned, mowed, or fertilized like bushes and shrubs. Stone will never wilt, and you'll never have to water it. It'll look stunning all year round and add beauty to your landscape design.
Whether it's fieldstone, gravel, or river rock, using stone to replace some of the greenery in your lawn or front/backyard is the best way to ease your garden maintenance job.
4. Controls Erosion & Facilitates Drainage 
Heavy rainfall can turn your garden into a puddle, which is why you should have proper drainage. Puddling water can drown the plants, make walkways slippery, attract mosquitoes, and mess up your landscape. 
Before you choose to dig your garden to make a drainage system, think about how stone can help in mitigating the issue. Water can drain very quickly through gravel and stones compared to soil. Therefore, a thin layer of stones in the wet areas of the garden can help avoid puddles. You can also plant your flowers and shrubs in stone beds as well, so you shouldn't worry about missing out on the greens.
If you feel that you cannot plant on the stone beds, there's always an option to plant your favorite perennials and shrubs in containers placed on top of gravel or stone. You can use different shapes, heights, and sizes of pots to add depth and visual interest, and bid farewell to water woes. 
If your house has a runoff issue, you can use the stone to design a natural waterway to direct the runoff away from the foundation of your home towards existing water features like a stream or a pond.
Looking for
Masonry Services in Saco
? 
Hire professionals at Stone Solutions Maine for top-of-the-line masonry. Our trained team offers outdoor landscaping services in Saco. We ensure that the landscaping is done to perfection, within time, and within your budget.
Our services also include stonewalls and veneers, firepit and fireplace building, patios, driveways, and more. We also offer our services in South Portland, Falmouth, and Yarmouth, ME. 
Contact us today to upgrade your outdoor space.