With the ongoing pandemic, you'll probably not be traveling to a luxury resort anytime soon. That doesn't mean you can't have any of that holiday fun, though! 
Here are a few ideas for you to create a perfect vacationing spot in your very own backyard.
Rethink Typical Seating
Dining chairs work well in backyards in standard conditions, but when you're redesigning the space to make it look like an ideal vacation spot, we suggest you up your game a little. Instead of the typical outdoor dining chairs and table combination, opt for something that's more comfortable to lounge in. 
Plush lounge chairs with colorful throws and cushions are great for this purpose. You can also add a hanging swing in one corner with a place rug and bedroom bench nearby. Oh, and while we're on the subject of hanging seating, how great would it be if you were to add a hammock to your backyard? It'll serve as the perfect relaxation spot on summer days. Hang it at a place where you'll get plenty of sunlight to bask under and make sure there's soft grass, mulch, or a furry rug beneath it to dip your toes in.
If you're on a budget, then simply invest in cane sofas and cover them with high-quality outdoor cushions that allow for cozying up with a cup of coffee on cool mornings. Place a few outdoor accents such as pretty pots and vases, lanterns, or other decorative items around them to get that vacation vibe you're aiming for.
Center It Around a Theme
Is there a particular place you love visiting or have listed on top of your bucket list? Choose a destination-based theme for your backyard and style the place accordingly. 
For example, for a tropical look, you can include some intricate tile work in your backyard, adding steps and walkways to enhance the effect. Opt for hanging lanterns and tucked-in seating with colorful pillows to set the tone. You can also install a small custom outdoor fire pit to make your backyard look even more vacation-y.
There are plenty of ways to incorporate a destination-based theme in your backyard. Get creative!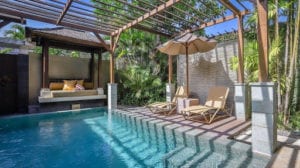 Include Resort-Style Accents to the Poolside
If you have a pool, revamp the landscape with some stonework or tile work. Add adequate poolside lighting to highlight the area, and throw in some decorative umbrellas, resort-style pool furnishing, and hanging lanterns.
Another way to make it look more like a resort poolside rather than a standard home poolside is by adding pool accessories in that area instead of keeping them inside your house. For instance, you can set up a cabinet stocked with fresh towels and sunscreen, and stash them in a poolside basket when you're using the pool. This will give the place a more resort-like vibe.
Our team at Stone Solutions Maine can help you transform your backyard into the perfect vacation spot. Call us today for details about our landscaping services and custom outdoor services.