Natural stone is one of the most beautiful and oldest building materials. It's used for everything from fireplaces to exterior siding and fences. However, as far as building materials go, natural stone is a bit on the expensive side. Because of that, stone veneer, also known as cast stone or faux stone, has become a viable alternative to natural stone. 
Artificial stone or stone veneer is made from a mixture of natural aggregates, cement, and pigments. They look hyper-realistic, especially if they're cast from the molds made with natural stone. 
Stone veneers have an extensive range of exterior and interior applications as they can drastically elevate your home's appearance, and offer an excellent return on investment. 
For instance, according to the 2020 Cost vs. Value Report by the Remodeling Magazine, if you replace a 300 sq. ft. of vinyl siding running across your home's façade with stone veneer, you can recoup around 96% of the project's cost.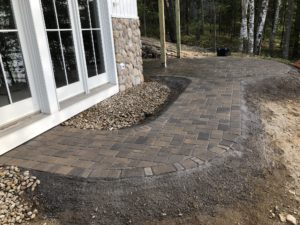 What's a Stone Veneer Siding?
A stone siding is made with lightweight concrete. It's also made with clay sometimes. Polymers are then added to the concrete or clay to enhance durability and weatherproofing. Lastly, pigment is added to give the stone veneer the desired appearance. In some cases, a stone veneer is painted instead of pigmented. Other fake stone products are made with strong polyurethane. 
The mixture of the above-mentioned materials is poured into molds made with rubber. These molds are created using a real stone as a cast. This ensures that the shape of the final product looks authentic. 
There are two different types of stone veneers available in the market. Individual veneers are available in boxes with different colors and sizes, but the style is the same. They provide freedom to the installer to pick and choose the veneer pieces to install. However, this process is time-consuming and difficult. All the individual pieces are affixed to the metal lath that contains the adhesive. All the spaces between the stone veneers are filled with mortar. 
The second type of stone veneer is the siding panel. They're typically two to eight sq. ft. panels. Installing these panels is an easy and quick process because every panel is screwed in. However, some parts of the panels also require mortar in the fabrication process. The corner pieces on the L-shaped walls are made with both panel sidings and individual veneers.
Pros Of Stone Veneers
Design and Variety
While stone veneer rocks are made with simple cement, it's their design, molding, and color that make the cement look like natural stone. The final product looks very realistic. Different processes can help produce different colors and designs to suit any preference or style people are aiming for. This gives you more material and possibilities to work with. 
Lightweight
Veneer stones are lightweight. That's why they're easy to work with and offer you more options about how and where you plan on installing the stone veneers. It means that stone veneers can also be used along with masonry, metal structures, or wooden frames.
Durability
If the stone veneer products are installed, used, and maintained correctly, you can rest assured that they will last you a very long time.
Cons of Stone Veneers
Improper Installation
Improper installation of stone veneers can potentially damage the structural integrity of your property, especially after installation. Therefore, you must hire a masonry professional expert in stone veneer installation. 
Exposure to Elements
Being exposed to different natural and artificial elements can hamper the aesthetic appeal of the stone veneer. Things like cleaning solvents, paint thinners, chemicals, de-icing salts, and other such products can cause discoloration. 
Water Damage 
Stone veneer products aren't the best option for water features, especially swimming pools.  That's because the chlorine in the water can cause discoloration. Moreover, to safeguard the veneer from water damage, it's important to have a professional stone veneer expert install them. 
Looking for
Stonewalls and Veneers
?
You should hire professionals at Stone Solutions Maine for top-of-the-line masonry. Our trained team offers outdoor landscaping services in Saco. We ensure that the landscaping is done to perfection, within time, and under your budget.
Our services include stonewalls and veneers, firepit and fireplace building, patios, driveways, and more. We also offer our services in South Portland, Falmouth, and Yarmouth, ME. 
Contact us today to upgrade your outdoor space.