Large stone walls can sometimes look unsightly, overshadowing the beauty of your residential landscape. The dominating presence of large rock walls can feel out of place, and even obtrusive.
But while you might only see a dull and dreary stone structure, we can take the crevices and curvatures between the rocks as an opportunity to execute an exquisite landscaping project.
Growing lush green plants and colorful flowers can enhance the look of your stone wall, helping it blend with the picturesque landscape.
Best Plants to Grow on Your Stone Wall
There are several plants that thrive between stone wall crevices. Below is a list of all the plants you can use to revamp your dull and dominant stone walls.
Perennial Plants for Walls Facing the Sun
Aubrieta
Baby's breath
Basket of gold
Bellflower
Blunt-lobed woodsia
Candytuft
Catnip
Columbine
Hens and chicks
'Hidcote' lavender
Moss pink
Pinks
Rock cress
Rosemary
Snow-in-summer
Stone cress
Stone crop
Sun rose
Thyme
Perennial Plants for Walls Facing the Shade
Baby's tears
Bellflower
Columbine
Creeping Jenny
House leek
Primrose
Rupture-wort
Saxifrage
Annual Plants for Sun or Shade
Sweet alyssum (Lobularia maritima)
Trailing lobelia (Lobelia erinus)
Snapdragon (Antirrhinum majus)
Wallflower (Erysimum cheiri)
What to Consider Before Selecting the Plants?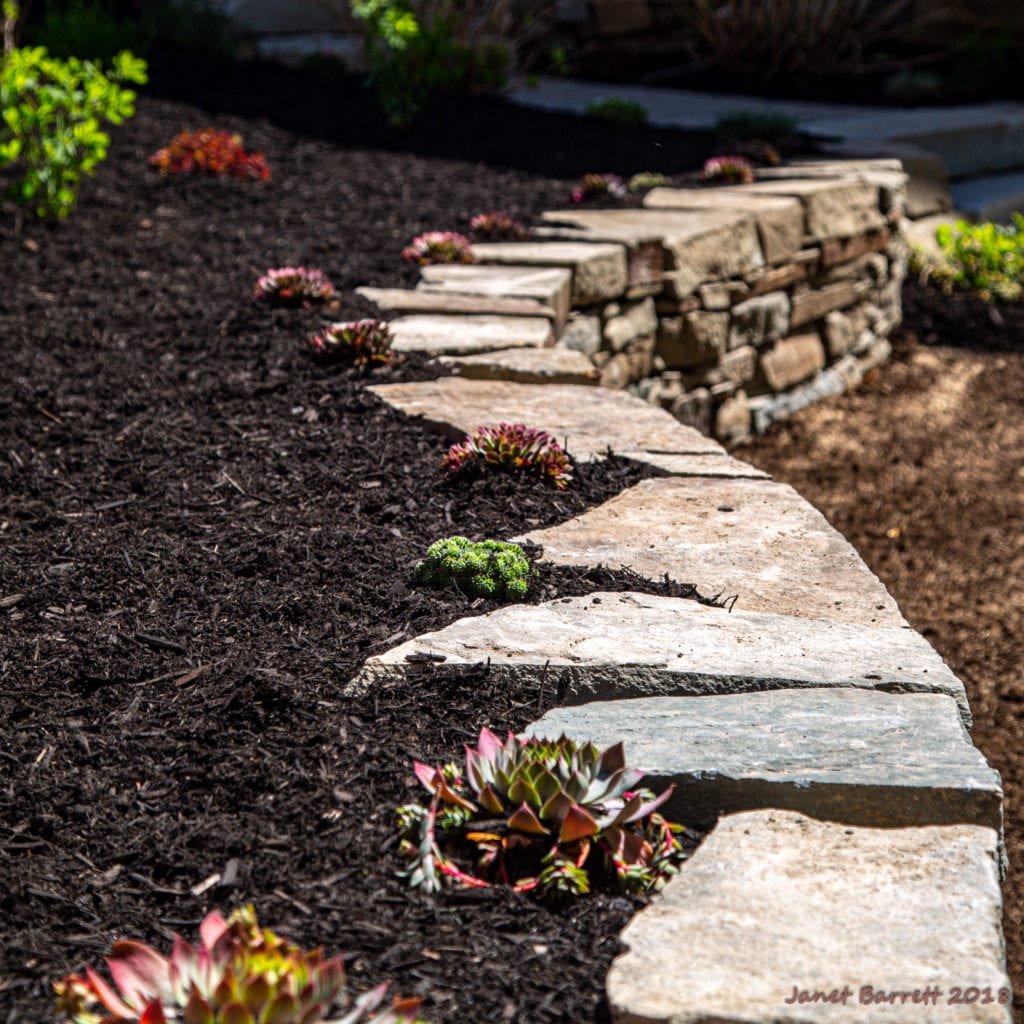 Here are three important factors that you must consider while choosing the plants for your stone wall.
The Material of Your Wall
You must determine what your wall is made of.  If your wall is made of alkaline mortar or limestone, acid-loving perennials won't grow well on it, for example.
Direction of Your Wall
If your stone wall faces north, go for any of the plants on our list of perennials, as they thrive in the shade. For a south facing wall that receives sunlight for most of the day, choose plants from our list of sun-loving perennials and annuals.
The Purpose of Your Wall
We don't advise planting on a wall that's part of your home's structure. For walls that serve as boundaries for your yard, go for smaller plants.
If you want to boost the aesthetic appeal and look of your landscape, get in touch with the landscaping design experts at Stone Solutions Maine. We offer a range of landscaping services and hardscaping services in Saco, including patio installation, driveway installation, stone veneer installation, custom paver driveways, and walkway design services.
Contact us for more information or to schedule an appointment.