The change in weather gets a lot of us excited as you wake up to fresh fall mornings with frost on the grass, looking forward to the festive holidays. But many households dread winters and the spike in electricity bills that accompanies it due to excessive use of heaters. Installing a fireplace can help cut down your utility expenses. But that's not all it can do; here are some reasons why you should add a fire pit to your home today.
Creates a Cozy Atmosphere
Nothing beats the feeling of entering a fire-lit room after a long day spent shoveling snow in the front yard or a long drive in the cold. Watching blazing fire while enjoying the warmth helps you relax and loosen up. The crackling of woods in the fireplace gives you the peace of mind you long for.
Adds  to Your Property's Value
Having a fireplace in your home is a major attraction for potential buyers. 46% of homebuyers are willing to pay more for a house with a fireplace installed. The National Center for Real Estate reports that adding a fireplace can increase the value of a property by up to 12%. Although wood-burning fireplaces are the most popular, even a simple, classic, and functional fireplace at your place will increase the value of your home.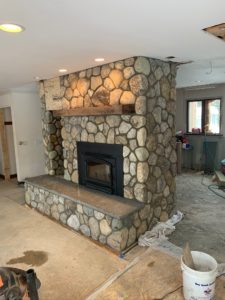 Is Energy Efficient and Lowers Your Utility Costs
Getting a fireplace installed has countless advantages. One of these is that they also help you reduce your utility bills by saving energy. The addition of a fireplace, whether gas or wooden, is a cost-saving investment. The idea of keeping heating costs as low as possible is what every potential buyer desires when buying a new property. Modern fireplaces can help you save hundreds of dollars each year you spend additionally on secondary heating sources. 
They are up to 85% efficient. A fireplace in your bedrooms and living rooms will help keep your utility bills low by providing considerable warmth that won't overburden your secondary heating system.
A Fireplace is Beautiful Décor Element That Becomes the Focal Point of the Room
Installing a new, modern fireplace can bring back the lost charm of your home, transforming your drab room into a happening one. The room with a fireplace gives a more welcoming feel and becomes the center of family gatherings. With multiple options available, you can find the right one for your home very easily within budget. Gorgeous heaths can be a perfect spot for you to chill all year long. They are beautiful decorative additions that make your living space comfortable and relaxing where you can drain your stress and spend some time with your loved ones.

It is An Eco-Friendly Alternative
Fireplaces that consume wood are highly efficient and help save energy. It is a sustainable source of energy and is a carbon-neutral way of heating your home. 
Most heating devices use fossil fuels, releasing large amounts of carbon dioxide into the atmosphere. According to a study, 89% of global CO2 emissions come from burning fossil fuels. Installing a wooden fireplace will reduce the use of non-renewable energy sources, making your home more environmentally friendly.
You Can Enjoy a Romantic Date Night Near a Fireplace
A fireplace is the perfect date spot for you. It's comfortable, cozy, relaxing, intimate, and offers everything you want on your dream date night. Play slow music, light fragrant candles, and open a bottle of champagne to make it a bit fancier and no less than a night out at a five-star hotel. You no longer will have to worry about the freezing weather outside. Consider getting a fireplace installed if you cannot leave your kids alone yet want to spend some quality time with your partners.
Now that you've known how beneficial it is to have a fireplace installed at your home, it's time for you to look for landscaping services in South Portland. 
Stone fireplaces add visual appeal and value to your property. At Stone Solutions Maine, we provide quality outdoor fireplaces in Saco. Our expert team will select the right location and ensure your safety and results that exceed your expectation.  So, choose from our collection of custom outdoor fire pits and outdoor fireplaces. We also provide gardening landscaping and stone landscaping services. Reach out to us today for more information.