Many people dread the winter season. It's cold, quiet, a little depressing, you can't work on your garden, and the idea of going outside is a big no.
What if we tell you that you can enjoy this season by prepping your garden without freezing to death?
There are many ways through which you can prep your garden for the winter. Some of them deal with soil preparation for the next harvest – covering the flower beds and insulating the garden with compost and manure. You can also hire professionals to check up on any disparity in the soil and prepare beforehand.
Other ways to set up your garden include revamping your garden's exterior and outdoor landscape. There are a variety of arbors and fire pits available that you can install in your garden to change its look.
Here are 4 easy ways to set up your garden and prepare for the upcoming winter.
Inspect your Garden Soil
The winter season is the best time to inspect your garden soil and prepare it for the upcoming growing season. Any soil disease or abnormality that you previously ignored can be fixed now. Since the upcoming spring will be busy, clear all the intruding weeds and renegades in this season. Also, discard all the weeds present in the compost to avoid hampering your next season's harvest.
Adding fertilizer and compost during the winter season also enriches the soil with nutrients and organic matters. The fertilizer breaks down to make the soil biologically active and ready for the crop plantation ahead.
It is also necessary to remove any diseased plant that supports fungal growth. The remaining plants will cover the soil and prevent erosion in extreme cold.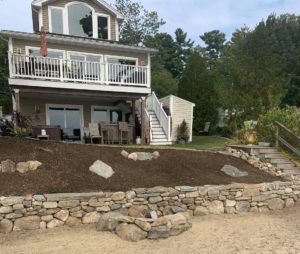 Update Your Garden Frame
In the winter season, don't just cozy up inside your house. Take this time to update your garden frame. The cold and quietness of the winter season reveals your garden's structure.  If your outdoor space looks dreary, beautify it by installing stone walls, veneers, or garden beds.
You can make a garden path using stone bricks, gravel, or hardwood. The procedure is simple but a little labor-intensive. After deciding what material to have as a surface, dig a path to your required length and width. Place your chosen material and level the path by placing sand on top.
If this is too much for you, hire home improvement professionals to perform a quick and efficient outdoor renovation.

Cover the soil and Garden Bed
It is crucial to cover the soil and garden bed with compost and cover crops during winter. Cover crops are specifically meant to protect the soil from erosion, increase its quality and fertility.
Some cover crops, including rye and clover, add nutrients to the soil by absorbing carbon from the atmosphere. Others, like legumes, increase the soil's nitrogen level that is the building block of chlorophyll – a plant's food. Ensure to plant cover crops before the start of a terrible frost. Check with your nearby garden experts to suggest the best cover crops for your region.
Covering the soil with compost is also crucial. Don't waste the compost generated during the summertime. Spread it on soil and garden beds to insulate the soil and cover up any nutrient deficiency.
Install a Fireplace
To enjoy outdoor gatherings in the cold weather, you can install a fireplace in your garden. They enhance the structure and increase your property's worth. You can also host your friends and family in magical and warm seating.
Fireplaces come in different designs that you can choose depending on the size of your yard. You can DIY some fire pits with your family, like a snow fort fire pit. Other fire pits like swing benches and sunken seats need to be installed by professionals. Get them custom-made from scratch or buy ready-made ones. That will save you a little money.
Some outdoor improvement professionals also install barbecue pits and pizza ovens, converting your outdoor space into a cozy retreat where you can spend quality time with your loved ones.
If you are looking for Home Improvement professionals to renovate your outdoor seating, connect with us at Stone Solutions Maine. Our professionally trained and experienced staff will help you envision the garden of your dreams.
We offer custom-made Fireplace installation, Stone walls and veneers Installation, Patio and Driveways renovation, Hardscaping, and more. We also provide outdoor landscaping services in areas surrounding Southern Maine. 
Contact us today for a quick and affordable Home renovation job and a free consultation.