Looking for ways to improve the curb appeal of your home? Stone veneers may just be what you need! Stone veneers have long been used as a building material and you can certainly see the reason for their popularity. The veneers create a contrasting look and are a great way to incorporate natural elements into your house design, which would be perfect if you live in an area like Scarborough. 
Manufactured stone veneers are less expensive than natural ones, so you would have to first decide which ones you'd want based on your budget. Both types of stone veneers give off a cozy, outdoorsy look. There isn't a fixed pattern on how to use stone veneers; you can be creative and try out unique ways to further improve your home's overall curb appeal. Here are some ideas to get you started:
Trim
Trim design is a popular way to use stone veneers. This involves having the lower base of your home fitted with stone veneers to create a baseline look. This design creates a sharp dividing pattern and can highlight areas such as the yard or the windows of your home.  
Chimneys and Columns
If you have columns, posts, or chimneys extending outside, you can use the stone veneers to accentuate them. This would add an unconventional look and add emphasis to these areas, creating a signature appeal. To those who want an outdoor cabin look reflected in their homes, these designs would suit perfectly.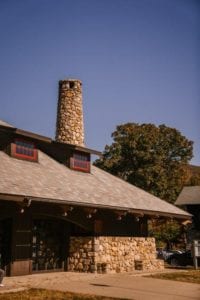 Outdoor seating areas
You can use stand-alone elements of your house as another way to use stone veneers. One such element would be an outdoor seating area. We're used to seeing wooden outdoor seating areas, so it would be interesting to use stone veneers to achieve a completely different look. Plus, adding wooden furniture to the area would give it great contrast and create a welcoming space for entertaining guests or a relaxing evening.   
Façade
Consider using stone veneers to surround the front door or the entryway accentuating your home's façade. This would create a focal point for your home's architecture that would be budget-friendly not overkill at the same time. 
If you're looking for professional stone veneer installation or landscaping services in Saco, reach out to us. We provide garden landscaping, driveway installation, and masonry services at unmatched rates. Connect with our friendly customer service team for more information.