With the cold weather kicking in, you may not have enough items in your backyard that make spending time there that much enjoyable. 
Spending time outdoors has many benefits, and unless it's completely unsafe to go outside, there's no reason to miss out on it. With the right installations, you can make it worth your time and money. Here are some must-have accessories for your backyard this winter:
A Fire pit
Why go out on a camping trip to enjoy S'mores when you can tell scary stories around a fire pit from the comfort of your home?
The weather might get cold, especially in typical Maine winters, but you can still enjoy the outdoors while cozying up next to a fire pit within your backyard. A beautiful, rustic pit in the middle of your backyard with you and your loved ones all huddled up around sounds like a great night.
Pizza Oven
Fun and excitement are sure to build up an appetite, and what better way to satisfy that hunger than with some pizza. Hold the phone, no need to call in any pizza parlor because with a pizza oven in your backyard, you can cook it live in front of your family.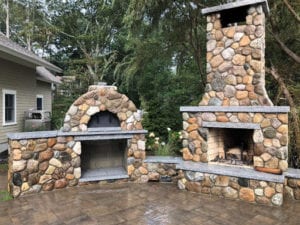 No more having to miss out on any fun while you're working in the kitchen trying to prepare food for everyone.
Barbeque Pit
Who doesn't love a bit of barbeque on the weekends? It's the quintessential party that doesn't require a ton of items. It can all be set up in a simple, effective way by installing a stone barbeque pit at your home. 
This one's sure to make your outdoor living space ideal for a fiesta, making your house the next family party spot. 
Stone Solutions Maine can help you turn your backyard and garden into the proper outdoor living space that you can be proud of and utilize to its fullest potential.
We've been in the landscaping and hardscaping service for over 30 years. We specialize in stonework, developing patios, custom paver driveways, and walkway designs. Reach out to us today, so we can get started on making your landscape great again.