The outdoor landscape of your house is just as important as the indoor landscape. However, while homeowners tend to be extremely particular about the interior décor of their homes, outdoor landscaping often takes a backseat when it comes to designing. 
Here are three simple ways you can liven up your front and/or backyard and make it pop. 
Add Some Color with Plants & Mulch
You don't want a dull and boring outdoor landscape. One simple way to brighten up the place is by adding colorful plants, mulch, and shrubbery to your front or backyard.
Despite the harsh weather Maine experiences, especially during winter, there are thousands of native plant varieties to choose from when it comes to designing this space. Lily of the Valley, Baby's Breath, and Lavender Mist are some of the most popular perennials seen around households. Striped Maple and Mountain Ash are classic winter plants that will make the landscape look lively during the cold season. And you also have a vast choice of shrubberies and green leafy plants to add to your yard. Adding colored mulch further elevates the space and can be added around trees, flower beds, and bushes.
Invest in Outdoor Lighting
While adding plants is a great way to add color to your landscape, for the best views of your landscape you also need good outdoor lighting. Adding flimsy fluorescent bulbs won't do. To make your space stand out, you should install proper outdoor lighting.
The type(s) of lighting you use should draw attention to your landscape, enhancing its appearance. For instance, you can ask task lighting for pathways and your patio. Hanging lights, post lights, and wall lights also have a magical effect on the outdoor area. You can further accent your outdoor lighting with smaller spotlights installed around the landscape to highlight its best features. The right blend of outdoor lighting can definitely make your landscape pop at night.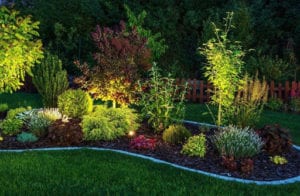 Install a Fire Pit
Fire pits in the backyard are the epitome of luxury living. That said, you don't necessarily need to have a luxury home to install one in your backyard! In fact, you can add a functional yet aesthetically appealing custom outdoor fire pit on your landscape to give it that extra "oomph".
Not only do fire pits add to your landscape aesthetics, but they're also handy for when you're having a barbecue at home or just want to sit around the fire on a cold winter evening. You can add it to your front yard if space allows, or install it in your backyard for a more private setting.
Make your landscaping dreams come true with Stone Solutions Maine. Call us today for details about our landscaping services and custom outdoor services.