Looking to make better use of all that space you've got outside your home? Why not convert it into a beautiful outdoor living space! Apart from looking incredible, it can become a place to entertain your guests, enjoy your leisure time, and even help you add property value, which can help when you're selling off the property. These ideas will help up your outdoor living space's level:
Stay Warm Next to A Firepit
The nights here in Maine can get pretty chilly, especially in the winter, when the winds can really pick up. But don't let that ruin your plans of spending some quality time outside. A fire pit or outdoor fireplace is the best way to keep yourself warm in your backyard. 
Apart from making sure you're toasty and cozy, firepits made of stone are also an aesthetically pleasing option that will turn some heads as well. Expect a little campfire-like experience with friends and family around with this one.
Pizza Oven/Barbeque Pit
Your backyard is often the ideal place for a party. And what's a party without some food? With a pizza oven or a barbeque pit made of stone, you won't have to head to the kitchen and miss out on any of the fun.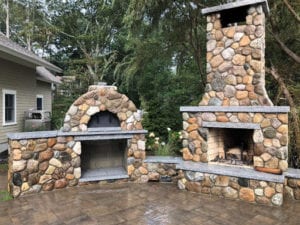 Prep it live in front of the crowd and let it cook while you enjoy time with the others, and then pull the food out when it's ready; it's that simple and convenient with a pizza oven or BBQ pit in your backyard.
Stonewalls
and
Veneer
Stonewalls add a rustic aesthetic to the exterior walls, which provide insulation to the inside while looking fabulous on the outside. In case of any damage to the base, you can cover it up with a veneer and a new dimension to your outdoor living space's overall design. Expect people to give it some attention and ask you all about it out of fascination.
If you're crafting an outdoor living space in your home, Stone Solutions Maine is here to make your life easier. We use locally-sourced items, provide honest and reasonable rates, and collaborate with our clients to bring their visions for their homes to reality. 
Having been in the landscaping and hardscaping service industry for over 30 years, we specialize in stonework, developing patios, custom paver driveways, and walkway designs as well. Reach out to us today, so we can get started on making the landscape of your dreams.