Gathering around a crackling fire with loved ones on a cool evening is a pleasure that lasts through the seasons. With the right accessories, you can elevate this experience and transform your fire pit into a space for cooking, warmth, and creating cherished memories.
We've gathered a list of ten must-have accessories that are designed to bring safety, convenience, protection, comfort, and ambiance to your gatherings. Unlock the full potential of your fire pit and make your Maine backyard the go-to spot for all your friends and family!
1. Fire Pit Screen
Upgrading your fire pit requires attention to detail, and there's one essential accessory that must not be overlooked — the fire pit screen. This master multitasker can take your outdoor space to the next level — and make your fire pit experience even more enjoyable.
Safety is paramount with any sort of fire, and a fire pit screen serves as an unsung guardian by preventing sparks from causing potential accidents or damage. This accessory isn't just functional, it provides peace of mind, especially when little ones or furry friends are present.
Adding a fire pit screen to your outdoor space is an investment in your peace of mind. It's a small addition that makes a significant difference, ensuring that your fire pit moments are both safe and delightful.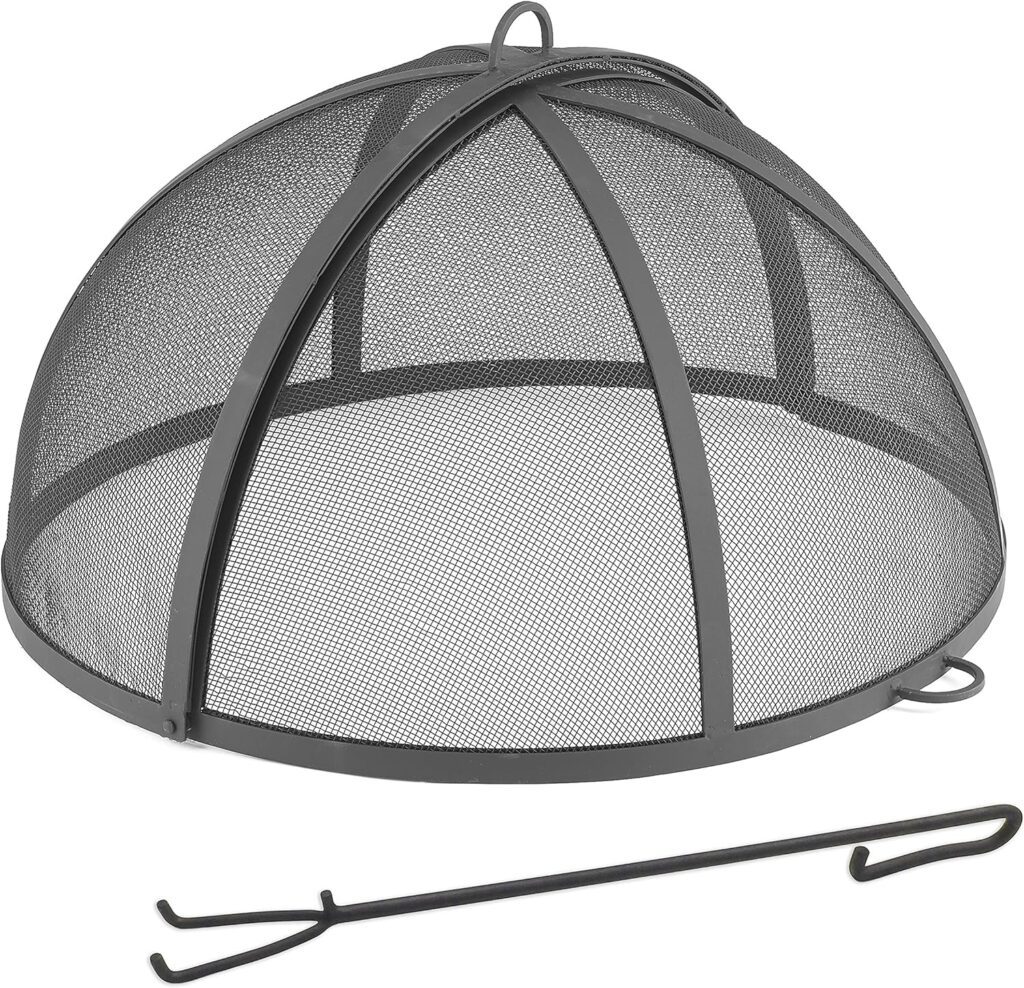 Pro tip: The Good Directions 774 Heavy Duty Pit Spark Fire Screen is highly recommended in the world of fire pit screens. It's made from durable materials and has a fine mesh design that keeps sparks contained while still allowing you to enjoy the hypnotic dance of the flames. Available in various sizes, you can find the perfect fit for your specific fire pit.
2. Fire Pit Cooking Grate
Turn your outdoor cooking up a notch by transforming your fire pit into a grill with a fire pit cooking grate. This accessory will let you grill your favorite foods over an open flame, adding an exciting twist to your backyard meals.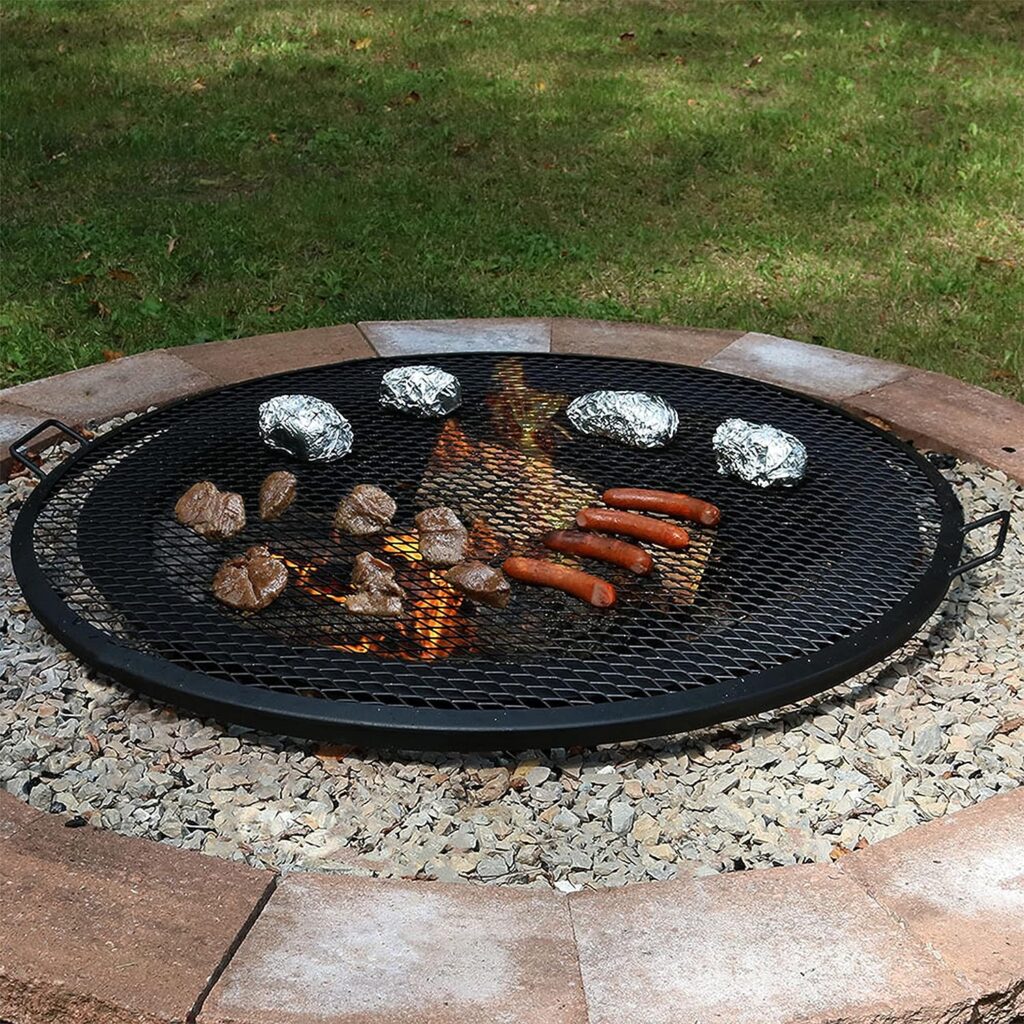 Pro tip: Whether you prefer locally sourced Maine seafood, fresh veggies, or juicy burgers, the Sunnydaze X-Marks Fire Pit Cooking Grate is the perfect fit for your fire pit setup. This durable cooking grate features a unique X-Marks design that creates those iconic grill marks on your food.
With easy installation and a secure fit over your fire pit, this cooking grate provides a stable and dependable surface for cooking. Additionally, the adjustable height feature allows you to control the heat intensity for perfectly cooked meals every time.
3. Adirondack Chairs
Adirondack chairs are perfect for relaxing by the fire with their timeless design, exceptional comfort, and unmatched durability. Designed for ultimate relaxation, these chairs have a slanted back, broad armrests, and a contoured seat that invite you to unwind by the fire. Whether you're reading a good book, enjoying your favorite drink, or just taking in the view, you'll do it in both style and comfort.
These chairs are also built to last, made from sturdy materials that can withstand even the harshest Maine weather conditions without losing their quality or charm. You can enjoy well-built Adirondack chairs for years to come.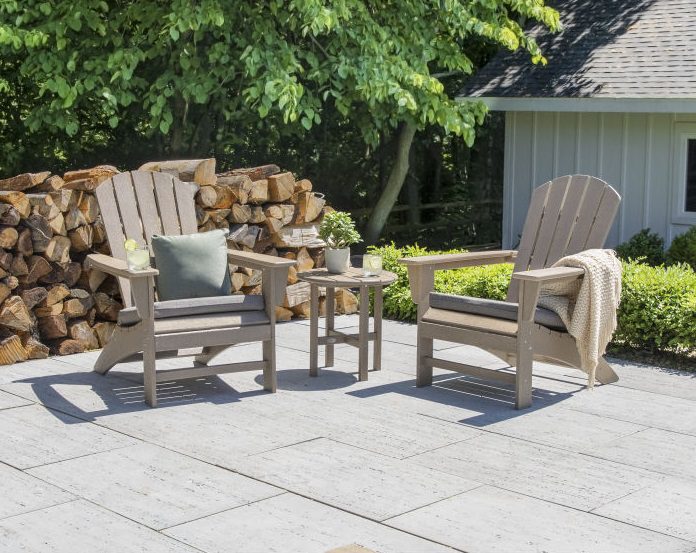 Pro tip: For top-notch Adirondack chairs, look no further than the Polywood collection. Their chairs are crafted from premium materials that won't fade, splinter, or crack, no matter the elements. With a variety of colors and styles available, you're sure to find the perfect chair to match your outdoor aesthetic.
4. Firewood Storage Rack
A firewood storage rack is an essential accessory for fire pit owners, ensuring that you always have a steady supply of firewood organized and easily accessible. There are various designs available, so consider the size and amount of wood you'll need to store before choosing the perfect fit for your needs.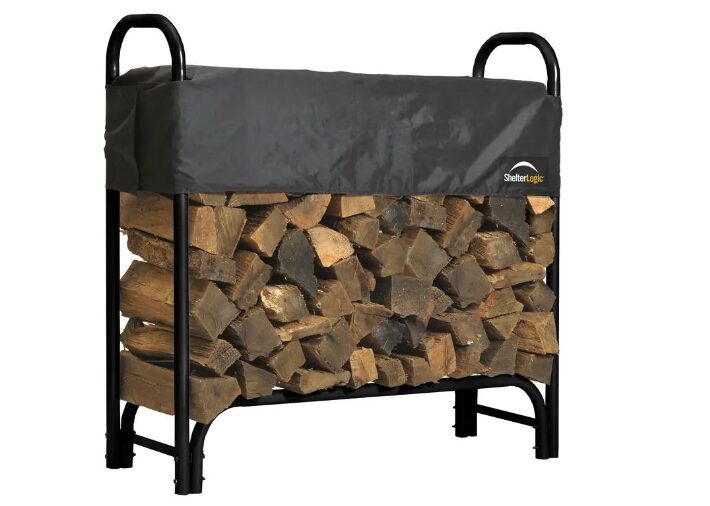 Protecting your firewood from unpredictable weather conditions, like those in Southern Maine, is crucial. With a dedicated firewood storage rack, you can keep your wood dry and ready to burn whenever you need it. The ShelterLogic Firewood Rack is an example of a durable and dependable rack. Its black powder-coated finish and adjustable polyester cover make it both practical and stylish.
5. Firewood Kindling Splitter
The firewood kindling splitter is a nifty accessory that makes it easy to split firewood into smaller pieces. This makes it simple to light and maintain a steady fire in your fire pit. The best part? Using it is a breeze. No more guessing how many chops it takes to split a piece of wood — with just a few strikes, you can create perfect kindling-sized pieces.
But it's not just about convenience: Using a firewood kindling splitter helps maximize the burn time of your firewood. By breaking larger logs into smaller pieces, each piece catches fire easily and burns more efficiently. This translates to less wasted firewood and more time spent soaking up the warmth and glow of your fire pit.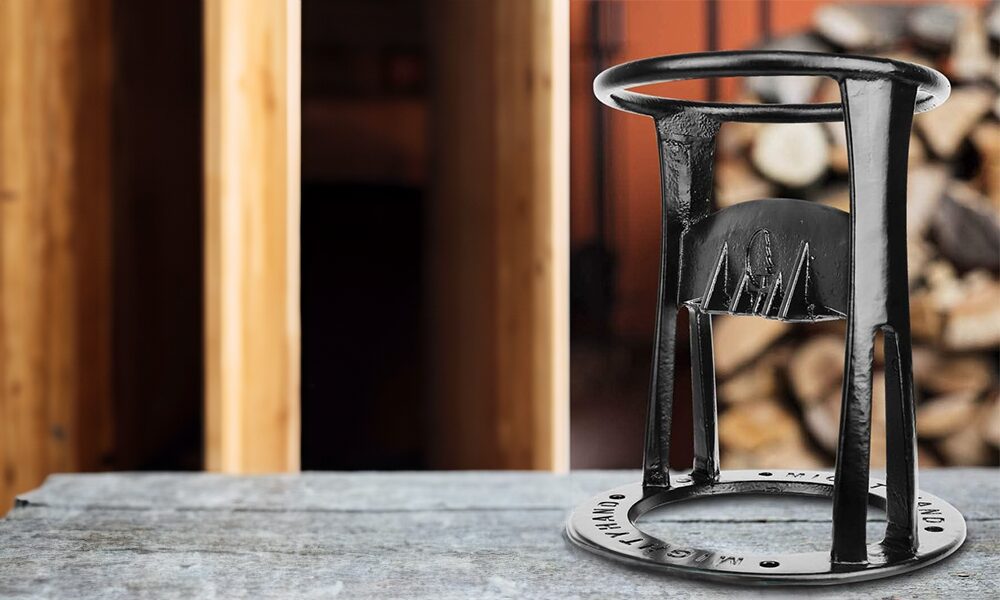 Pro tip: Our top pick for a firewood kindling splitter is the Mighty Hand Kindling Splitter XL. It's sturdy and durable, and the sharp blade makes quick work of even the toughest logs. All you have to do is place the log onto the splitter and strike it with a hammer or mallet, and boom! Perfectly sized kindling pieces for your next fire. 
6. Fire Pit Tongs
Fire pit tongs are essential tools for safely and conveniently tending to a fire pit. They let you adjust burning wood and arrange logs without coming too close to the heat. It's important to choose tongs made from durable materials like stainless steel or wrought iron that can withstand the fire's high temperatures. The tongs' length is also vital to consider as they need to keep you a safe distance from the flames.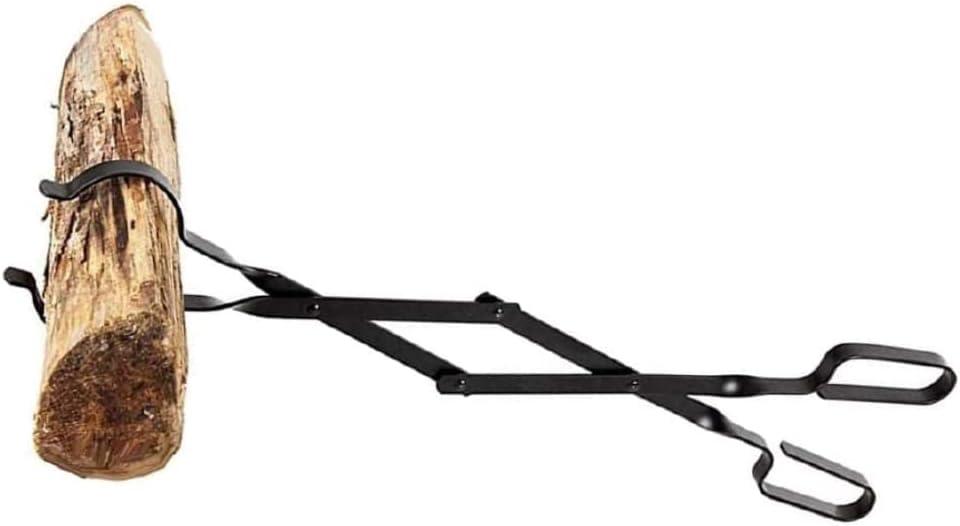 Pro tip: The Rocky Mountain Goods Fire Pit Tongs are a great option as they feature a robust design and durable materials, giving you a secure grip on logs and other fire pit materials. With their extended reach, you can easily move logs around and position them without risking accidents or burns.
7. Heat Resistant Gloves
As we keep saying, when it comes to enjoying your fire pit, safety should always be at the top of your priority list. That's where heat-resistant gloves come to the rescue. These vital accessories are designed to shield your hands from the intense heat of the fire, allowing you to manage your fire pit without worrying about burns or pain.
From arranging logs to adjusting burning wood or adding more fuel, heat-resistant gloves offer the protection you need to keep your hands safe. Made from robust materials like heat-resistant fabric or leather, these gloves can handle high temperatures while making sure your hands stay cool and comfy.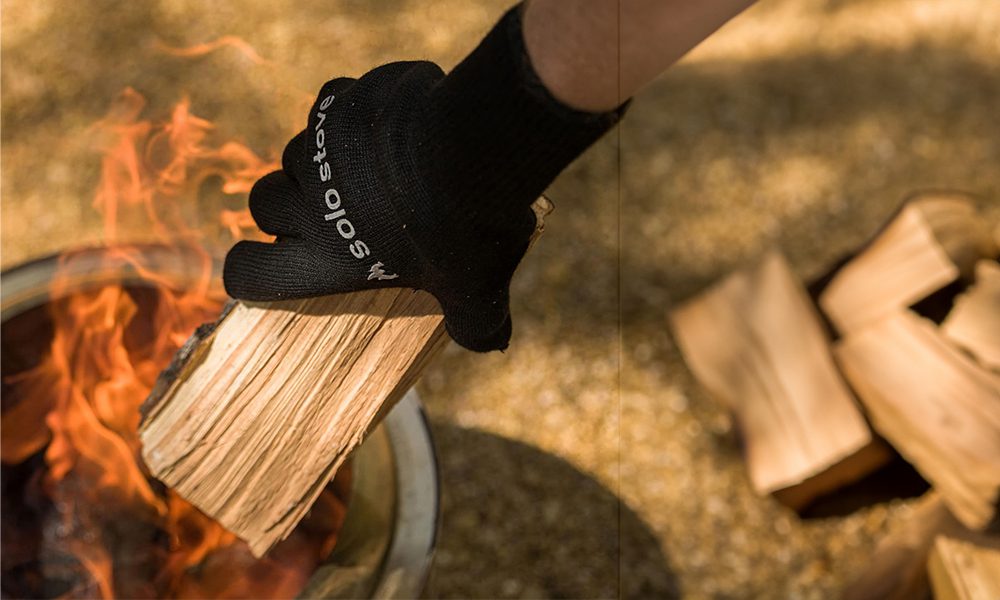 Pro tip: For a superior choice, consider the Solo Stove Gloves. Constructed from durable, heat-resistant materials, these gloves offer maximum protection while still giving you the flexibility and dexterity you need. They're up to the task of handling hot logs or adjusting your fire pit setup, all while providing a secure grip. This is crucial when dealing with hefty logs or slippery fire pit accessories. Thanks to their non-slip design, you'll have full control and the confidence to handle whatever your fire pit demands.
8. Marshmallow Roasting Sticks
Calling all s'mores lovers! If you're a fan of the classic campfire activity of roasting marshmallows, roasting sticks are a must-have. These nifty accessories not only make marshmallow toasting a breeze but also add an extra dash of fun to your Maine fire pit gatherings.
When it comes to choosing the perfect roasting sticks, length is key. Opt for options that extend at least 30 inches to keep your hands safely away from the fire. With marshmallow roasting sticks available in various styles and materials, you can find the perfect fit for your needs.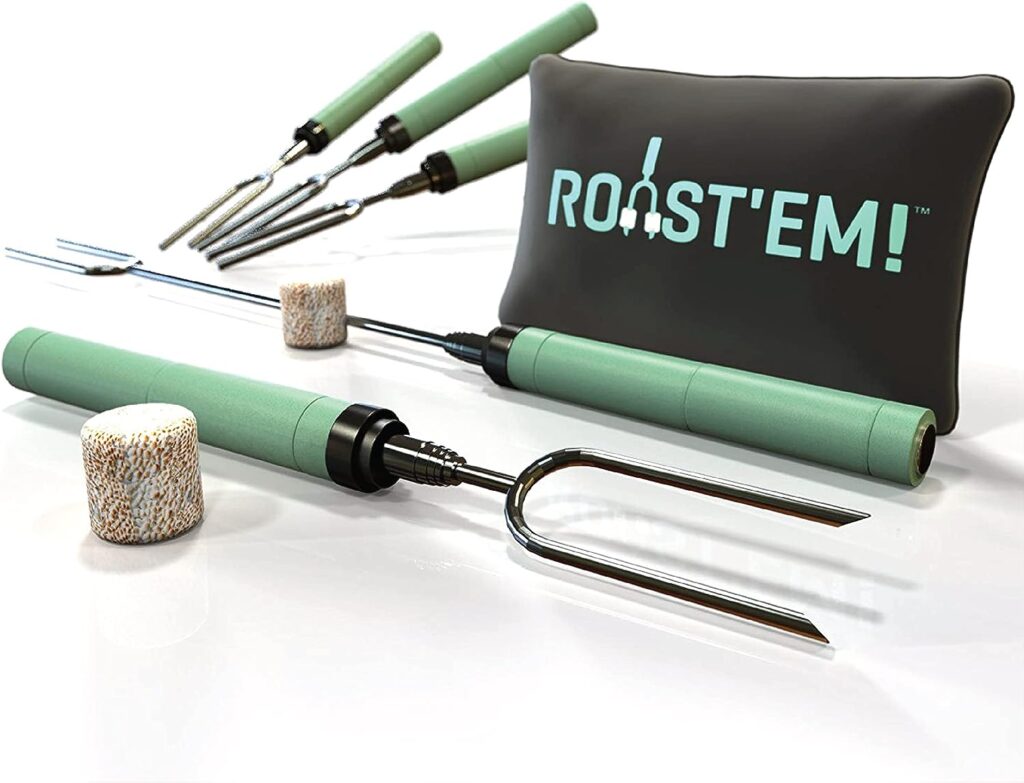 Pro tip: We recommend you check out Jolly Green Products' Rotating Marshmallow Roasting Sticks. These expandable wonders are your ticket to perfectly toasted marshmallows, thanks to their rotating handles that ensure even cooking and keep your treats from turning into charred disasters. 
9. Fire Pit Popcorn Campfire Popper
Get ready to upgrade your fire pit gatherings with the ultimate snack — freshly popped popcorn! With a fire pit popcorn popper, you can take your outdoor entertainment to the next level by enjoying movie-time treats made right over the open flame.
Whether you're hanging out with friends and family or enjoying a peaceful evening under the stars, a popcorn popper is a must-have for homeowners who want to add some fun and flavor to fire pit time. You can choose from various styles, including classic stovetop poppers and sleek electric options.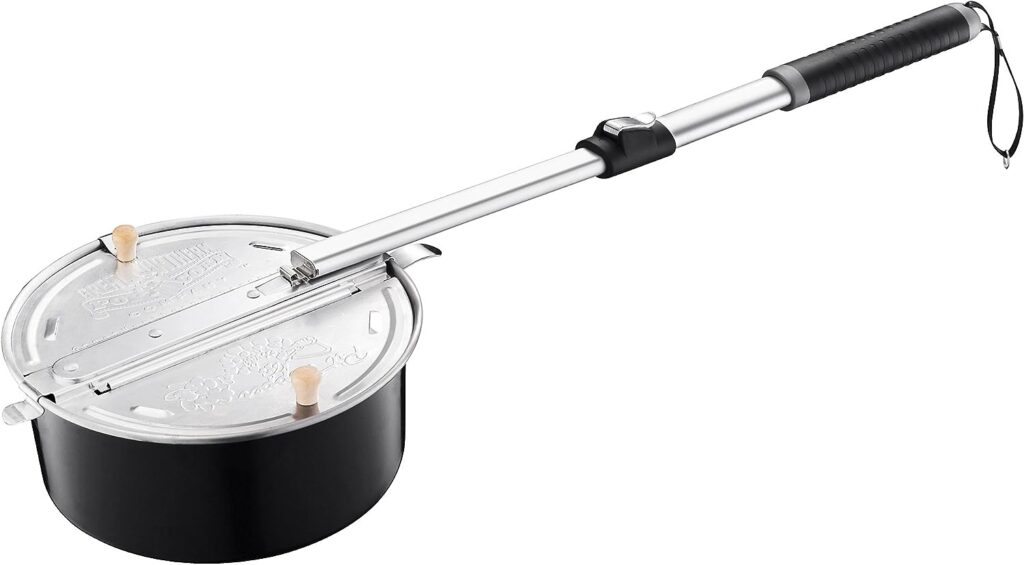 Pro tip: One standout choice is the Great Northern Popcorn Pit Popper Campfire Firepit Popcorn Popper. Designed to be used over an open flame, it gives your popcorn that distinct smoky flavor that only a fire pit can provide. With its sturdy construction and long handle, it's safe and easy to use, making it the perfect addition to your fire pit entertainment arsenal. Using this popper is a breeze — just add oil and popcorn kernels, hold it over the fire, and watch the magic happen. 
10. Insulated Cups
Now that you have all the necessary accessories for your fire pit, let's talk about an often-overlooked item: insulated beverage cups. These are essential for keeping your favorite drinks at the perfect temperature while you relax by the fire.
Whether you're enjoying a hot cup of cocoa on a chilly Maine evening or sipping a refreshing iced tea on a hot summer day, insulated cups are designed to be your new BFF. They are typically made with double-wall insulation and a tight-sealing lid, preventing heat or cold from escaping and maintaining the optimal temperature of your drink.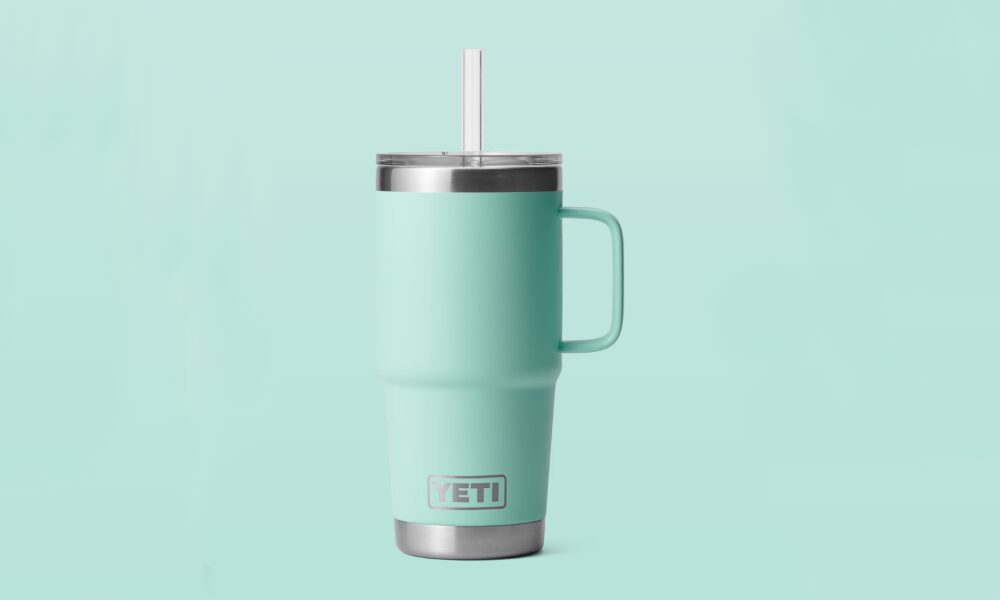 Pro tip: We're fans of the Yeti Rambler, and it's a fantastic choice for anyone who values quality and performance. The Yeti Rambler's exceptional insulation properties ensure that your drinks stay hot or cold for extended periods, allowing you to savor every sip without worrying about temperature fluctuations. 
With the right accessories, your fire pit will not only be a source of warmth and ambiance but also a central hub for creating cherished memories with friends and family, making your Maine backyard the go-to spot for all your gatherings.
Don't have a fire pit yet, or looking to redesign the one you have? Look no further than Stone Solutions Maine. With our expertise in hardscape materials, fire pits, and patio design, we can help you create the perfect outdoor space for your Maine backyard. Contact us today!